Brazilian Coffee Barbecue Sauce recipe
This Brazilian Coffee Barbecue Sauce recipe is another adaption we are very proud of. The sauce is amazing with many types of entrée.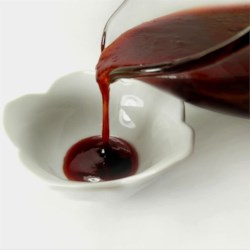 What a nice way to use leftover coffee!
My folks love this sauce! This recipe works very well with both brewed and espresso coffees. In fact, you can I play with that to find different levels of coffee taste in it. Very easy to make, this tasty sauce is a work of opposing flavors. It keeps well for a long time in a glass jar in
You will be able to store it in the fridge for a long time in a glass jar. Use it as you would traditionally.
Preparation time is variable based on desired thickness and heat quality. Don't let this issue stress you. Have fun while tasting the sauce many times during the whole process.
Ingredients
to simmer and reduce

1 cup tomato paste
1 tbsp thick balsamic vinegar
1⁄4 cup red wine vinegar
1 cup organic sugar
1 tbsp onion powder, or to taste
1 tsp garlic powder
2 tablespoons molasses
2 tablespoons mustard, or to taste
2 tablespoons Worcestershire sauce
1 tsp ground cumin, ot to taste
1 tsp malagueta pepper powder, or 2 tsp chili powder (or to taste)
1 tiny pinch cinnamon, (optional)
1 tiny pinch cloves (optional)
1 cup water
after reducing

1 cup strongly brewed Brazilian coffee, or espresso (not hot, preferably cold)
1 tbsp corn starch
salt and pepper
Instructions
to simmer and reduce

Place all simmering ingredients in a saucepan.
Bring to a full boil
Reduce heat to simmer, cook and reduce to medium gravy thcikness, stirring occasionally. (time depends on your heat, so let it flow and use your judgment)
after reducing

Dissolve the corn starch in the cold brewed coffee
Pour coffee mix into the hot sauce pan and let it thicken (avoid boiling)
Season sugar, salt and pepper to taste. ( you may choose to use other spices here too)
Notes
The optional cinnamon-cloves combination is desired since they are both very present in the Brazilian cuisine.
Be careful with malagueta and other strong red pepper powders. You might not want to make this too hot.
You can control the thickness of the sauce using two methods:
1 - in the simmering process: reducing more will thicken the sauce; less will make thinner 2 - more corn starch thickens, less makes the sauce thinner.
They are slightly different.
The fantastic thing about coffee here, besides its exquisite taste, is that the roasting of the coffee somehow substitutes the meat over-browning and vegetable caramelization of a brown or dark broth.