Brazilian Praline Coffee Cake
Brazilian Praline Coffee Cake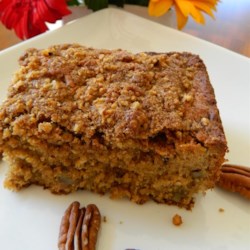 From the kitchens of the old the South US to the ovens of Brazil, a cake with praline that will sweeten any coffee rendezvous. Check it out!
This recipe was given to me by Ms. Matilda Gonsalves de Andrade. An outstanding amateur chef from Salvador, Bahia, Brazil. She learned it while her husband was completing his MBA in Alabama in the mid 70's. After that, the recipe was adapted to share hints of our Brazilian taste.
A quick and easy Brazilian coffee cake, this delicacy has a treaty combination of both Hemispheric Americas, with fantastic subtleties of flavors and textures.
A great cake for breakfast, brunch, dessert or late night indulgence.
Ingredients
2 cups baking mix (like Bisquick)
1/2 cup brown sugar
1 pinch cinnamon
1 pinch cloves
3/4 cup chopped pecans
1.5 tablespoons instant coffee granules
1 large egg
1 cup butter flavored shortening, melted
1 teaspoon vanilla extract
1 cup buttermilk
1/4 cup brown sugar
1/4 cup chopped pecans
1/4 cup graham cracker crumbs
1/4 cup softened butter
Instructions
Preheat an oven to 375 degrees F (190 degrees C).
Grease and flour a 10 inch square cake pan.
Mix baking mix, 1/2 cup brown sugar, spices, 3/4 cup chopped pecans, and the instant coffee granules in a large bowl.
Whisk together the egg, shortening, buttermilk, and vanilla in a separate large bowl.
Stir the dry ingredients into the wet ingredients, mixing just until completely moistened.
Pour batter into prepared pan.
Mix remaining 1/4 cup brown sugar, 1/4 cup chopped pecans, and the graham cracker crumbs in a small bowl.
Sprinkle topping evenly over batter.
Bake in preheated oven until the toothpick test is O.K. (about 20 to 25 minutes)
Dot top of cake with softened butter, immediately.
I have tried some changes in the formula that could be fun to test:
only one tsp of instant coffee
real butter instead as shortening
add some fruit, like pineapple cubes, or blueberries to the mix!
These cakes bake quite well in about 35 minutes here at home, but times may vary depending on your oven.
Everyone here at home loves this cake. I'm sure your family will too.
I hope you enjoy and tell your friends about the coffee cake recipe and this website. Please leave a comment below.