Brazilian Sour Cream Coffee Cake Recipe
This Brazilian Sour Cream Coffee Cake recipe makes a moisty and delicious delicacy that is rich choice to enjoy with a cup of Brazilian Coffee.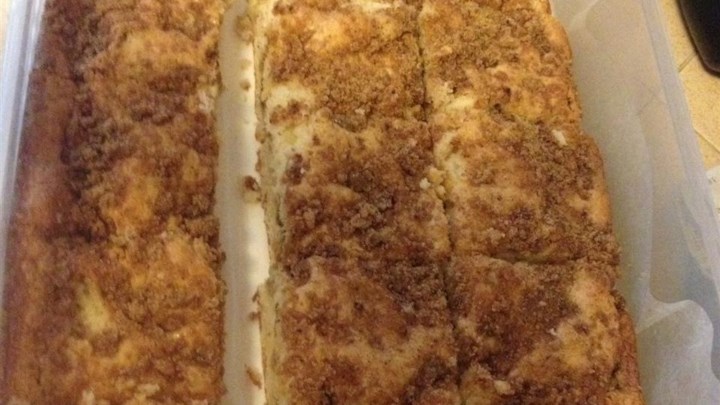 If you push the amount of topping ingredients to double or even triple, beware that people might find the cake sweeter than expected.
The measure of topping stipulated in the recipe is classic, not excessively sweet, just perfect as a  company for a cuppa Joe.
The cake is a sound, basic coffeecake; Very pleasant.
Ingredients
1 cup butter
2 cups white sugar
2 eggs
1 cup sour cream
1/2 teaspoon vanilla extract
2 cups all-purpose flour
1 teaspoon baking powder
1/8 teaspoon salt
1/3 cup all-purpose flour
1/2 cup packed brown sugar
2 tablespoons melted butter
1 teaspoon ground cinnamon
1 pinch of ground cloves
Instructions
Preheat oven to 350 degrees F (175 degrees C).
Grease a 9x13 inch baking pan.
Cream together 1 cup butter and white sugar until light and fluffy.
Beat in the eggs, one at a time, then stir in the sour cream and vanilla.
Mix in 2 cups of flour, baking powder, and salt.
Spread 1/2 of batter in the prepared pan.
filling

In a medium bowl mix 1/3 cup flour, brown sugar, 2 tablespoons melted butter, and spices.
Sprinkle cake batter with 1/2 the filling.
Spread second half of batter over the filling, and top with remaining filling.
Bake 35 to 40 minutes in the preheated oven, or until a toothpick test comes out clean.
You can try this recipe with a 9×9″ pan.
I love to enjoy this delicacy with a Brazilian coffee espresso.
Please, leave a comment about this Brazilian Sour Cream Coffee Cake Recipe.