Iced Brazilian Coffee Recipe
This an iced Brazilian coffee recipe that I found in my grandmother's kitchen alchemy book. It is a variation with a special touch from my country. Try it out!
A long time ago, there used to be a tea house in Rua Augusta, São Paulo Brazil that my family loved. They had this "coffee smoothie, called "Frapê de Café". My mother usually ordered it with hot grilled ham and cheese croissant sandwiches…
After a while, the habit of going to tea houses became old-fashioned and, unfortunately, we lost some of that Victorian glamor and charm. Luckily recipes remained to help us redeem them.
Ingredients
coffee mixture

1/2 cup of strong prepared hot Brazilian coffee
1 pinch of carnation spice, or a head (to taste)
1 pinch of powdered cinnamon
the shake

1 tray ice cubes
1/2 (5 ounce) can sweetened condensed milk
1/2 cup milk
1 tablespoon chocolate syrup (optional)
Instructions
coffee mixture

put the carnation and cinnamon inside a warm cup and pour the hot coffee over them until the cup is full.
let that rest for about 2 to 3 minutes.
filter off any conspicuous residue.
you will use half cup of this.
the shake

In a blender, combine ice cubes, coffee mixture, milk, sweetened condensed milk and optional chocolate syrup.
Blend until smooth
Pour into glasses and serve.
Notes
"Iced Brazilian Coffee" is the name in English, just in case you print the recipe.
This Iced Brazilian Coffee Recipe is also great with: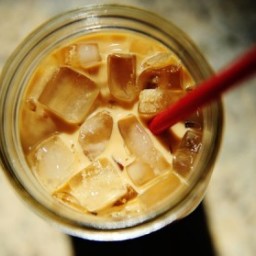 Grilled Ham and cheese sandwiches
Spicy burgers sandwich recipes
sausage-breads or muffins
cheese stuffed Brazilian Cheese Bread
sandwiches made with Brazilian Corn Bread
grilled bread and butter
hot-spiced toast with butter or olive oil
homemade bread pizzas
and the above-mentioned cheese croissant sandwich
Experiment with various commercial or gourmet Brazilian coffee brands for this recipe.
Please, leave a comment about this Iced Brazilian Coffee Recipe.