La Crema Coffee Brazilian Santos
La Crema Coffee Brazilian Santos isn't just your average coffee dealer. They are a small quantity coffee roaster that has been trying to deliver the highest quality Arabica coffee possible for more than three decades.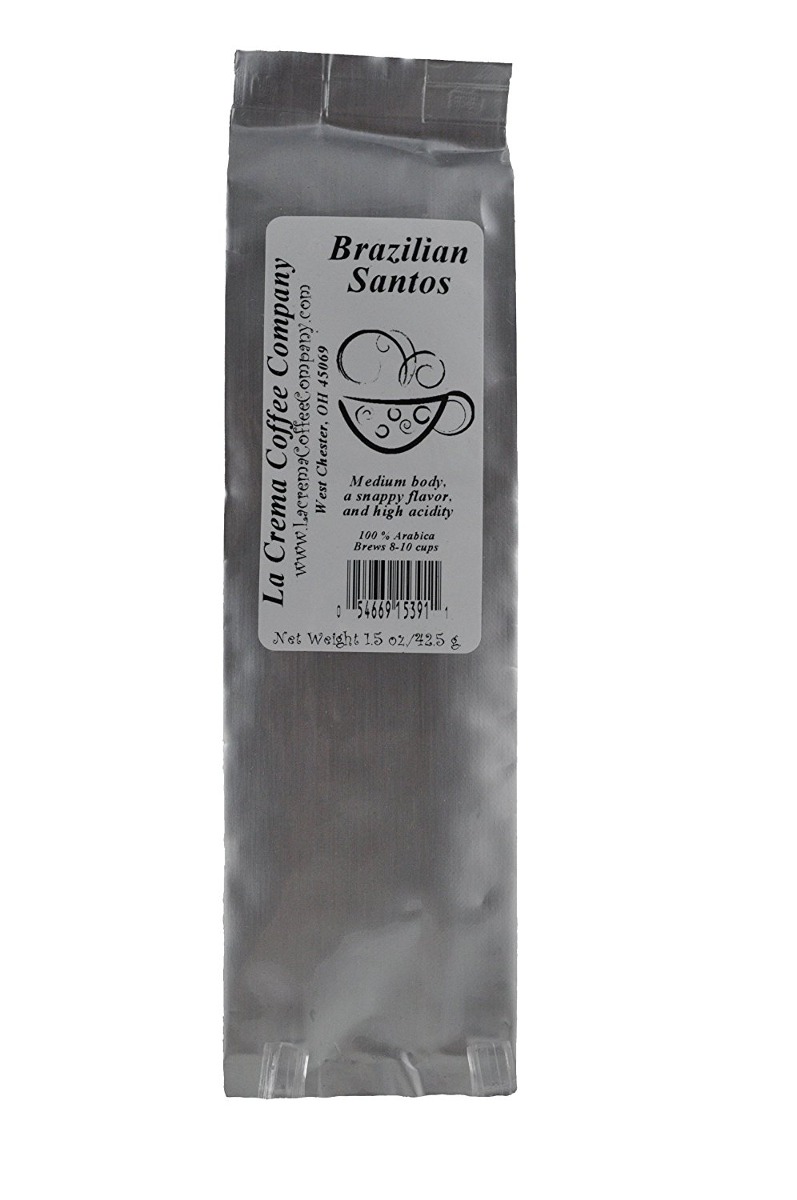 Regarding quality, they consider their coffee top notch for dining establishments, hotels, resorts, and retail stores worldwide.
They got the expertise to help you with equipment selection, design, layout, installation, and training.
La Crème coffees are roasted using one of the world's most common roasting methods; drum-roasting.
Their Brazilian Santos comes from a blend of Brazil's most exceptional Arabica Bourbon beans, giving a particular gourmet flavor to your cup of coffee.
La Crema Coffee Brazilian Santos delivers a great soft and vigorous taste with a medium body and slight acid-fruit notes.
Information, found on the internet, regarding acidity is not precise. Vendors claim it to be of high acidity, but our judgment is medium. That may be due to different batches, which, by the way, is not uncommon. No coffee is ever exactly the same.
They use Foil package for a better protection of their product, which is excellent for the more exigent kind of consumer.
With its medium body and high (medium)  acidity, they can give you a fresh cup of coffee grown in the best regions of Brazil.
Be sure to buy a 12-Ounce Combo (Pack of 2) as they don't sell in different sizes for this type of coffee.
taste

body

acidity

aroma

my personal evaluation
Please, leave a comment about La Crema Coffee Brazilian Santos.
La Crema Coffee Brazilian Santos
A blend of Arabica Bourbon coffees from the best coffee regions in Brazil. Find out about this delicacy.
Brazilian Santos
La Crema Coffee Company
Brazil
Ideal for commercial establishments from a micro roasting coffee company
Arabica Bourbon of origin
Bourbon is the most exceptional type of beans in the World.
Vendors claim acidity as high, We found it medium.
Excelent all around taste.
Great for customers that put quality in first place.
Drum, medium
smooth and lively
medium
medium
Fruity
2 x 12oz. packs
$21.60 ($14.30/L)
$0.24
$0.28