Strawberry Coffee Cake Recipe
This Strawberry Coffee Cake Recipe is a great dessert to eat with a cup of Brazilian coffee. An easy and delicious cake to prepare all year around.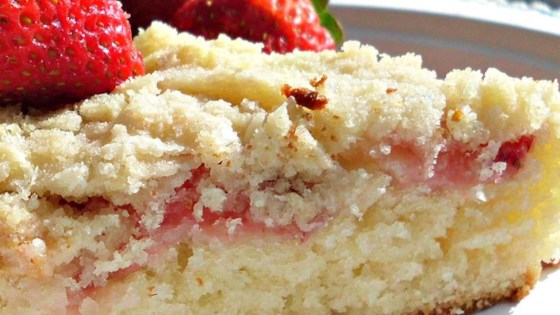 We can prepare  
these cakes with the fruit in the batter, with them atop them, with filling made with the fruit in between the layers of a layer cake, and in any compound of those.
Some are made with strawberries incorporated into a frosting.
Fresh or frozen versions of the fruit may be used in this Strawberry Coffee Cake Recipe. Some may use strawberry-flavored gelatin as an ingredient, which can present the cake with a pink color when it is mixed in the batter. A garnish of strawberries is used on some cakes. Strawberry cakes may be adapted as gluten-free recipes.
Strawberry Coffee Cake Recipe, a formula that can vary.
Some versions are served chilled, and some are frozen and then served in a partially frozen state. Ricotta cheese is sometimes used as a component in the cake mix or as a topping. Strawberry cake is sometimes prepared using an instant cake mix as a base, such as a white cake batter, upon which extra ingredients are added to the mix or atop the cake. It is, occasionally, prepared and served as a plate on Valentine's Day.
Ingredients
1 cup all-purpose flour
1/2 cup sugar
2 teaspoons baking powder
1/2 teaspoon salt
1 egg, beaten
1/2 cup milk
1 teaspoon vanilla (optional)
2 tablespoons butter, melted
1 1/2-2 cups sliced fresh strawberries
TOPPING

1/2 cup all-purpose flour
1/2 cup sugar
1/4 cup cold butter
1/4 cup chopped pecans
Instructions
In a mixing bowl, add the flour, sugar, baking powder and salt; stir to mix.
In a second bowl, add the egg, milk and butter; stir to mix; add to dry ingredients and stir just until moistened.
Pour mixture into a greased 8-inch square baking dish.
Place strawberries evenly over the top of batter.
To make the topping: Combine the flour and sugar in a bowl.
With a pastry blender, cut in the butter until consistency of coarse crumbs.
Stir in pecans.
Sprinkle mixture evenly over the strawberries.
Bake at 375° for 30-35 minutes or until wooden pick comes out clean.
Nutrition Facts
Strawberry Coffee Cake Recipe
Serves: 8 servings
Amount Per Serving
Calories

310

% Daily Value*
Total Fat

12.5

19.2%
Saturated Fat

6.2

31%
Trans Fat
Cholesterol
0
Sodium

329

13.7%
Total Carbohydrate

46

15.3%
Dietary Fiber

1.5

6%
Sugars

26.5

Protein

4.2
| | |
| --- | --- |
| Vitamin A | Vitamin C |
| Calcium | Iron |
* Percent Daily Values are based on a 2,000 calorie diet. Your daily values may be higher or lower depending on your calorie needs.
La Trinidad, Benguet Strawberry Festival
The Strawberry Celebration in the La Trinidad, Benguet city of the Philippines, the world's largest strawberry cake was prepared on March 20, 2004, and confirmed by Guinness World Records. The shortcake was made by several bakers and weighed over 20,000 lb (9,000 kg).
In March 2015 at the same festival, 6,000 slices of strawberry cake were served as part of the celebrations. The cakes for were prepared using fresh fruits. Additional foods served at the event included strawberry wine, strawberry kutsinta (a steamed rice cake) and strawberry cupcakes. Some restaurants and bakeries serve the strawberry cake as a part of their fare.
Please, leave a comment about this Strawberry Coffee Cake Recipe.